Research findings
No. 27 The Stabilization of Antioxidants by Complexation with Cyclodextrins
Ingesting of antioxidant as supplement is important for removing of reactive oxygen species which cause skin aging and some lifestyle diseases.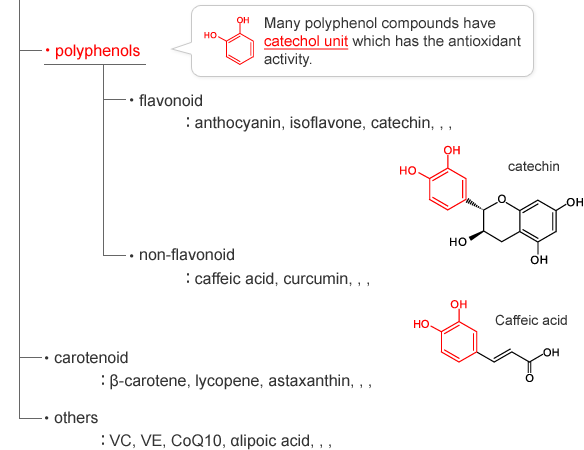 Introduction
Polyphenol compounds are typical antioxidants. Oxidized polyphenol can react with nucleophile irreversibly. And the reaction product has a possibility of loss of it's original functions.
(R. Yoruk, et al., J. Food Biochem, 2003, 27, 361-422.)

In this work
The stabilization of tert-butylquinone (TBQ) as a model compound of oxidized polyphenol with cyclodextrin(CDs) was explored.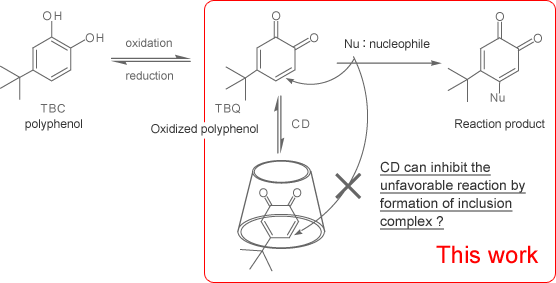 result
Rate constant for the unfavorable reaction of oxidized polyphenol (quinone) and nucleophile (glycine)

→ CD can inhibit the unfavorable reaction of TBQ and glycine by formation of inclusion complex.
Conclusion
CDs could stabilize TBQ by formation of inclusion complex.
*rate of unfavorable reaction
withoutCD > α-CD = β-CD > γ-CD
→ This study indicated that a new general possibility of CD function. CDs show inhibitory effect to unfavorable reaction by inclusion of quinone (← polyphenol) compounds.