Research findings
No. 97 Study on fiber processing using monochlorotriazinyl β-cyclodextrin and polyethylenimine.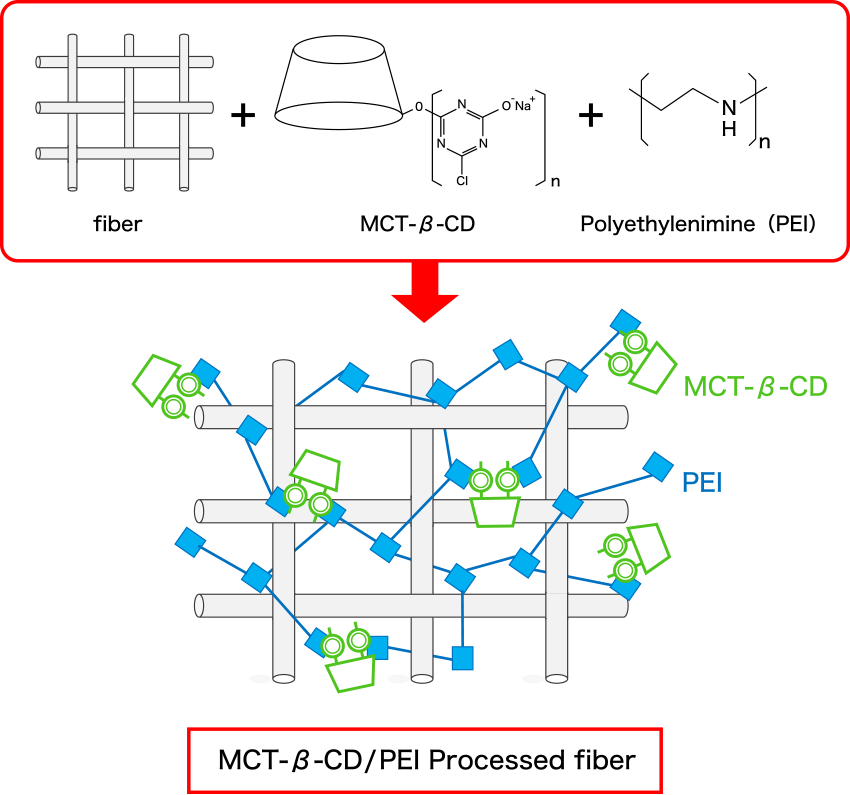 Summary
In recent years, along with the desire to improve the quality of life, fibers having various properties such as cold and warm feeling, deodorant, high water absorption and quick drying, antibacterial and antistatic properties have been actively developed. We have reported the preparation of fibers processed with monochlorotriazinyl β-cyclodextrin (MCT-β-CD, Fig. 1) having deodorization property of malodorous components and also cooling property by complexing menthol as a cooling sensation component (For details, please refer to the 39th of the latest research results on our website). But high temperature conditions are frquired for the fiber processing with MCT-β-CD. Therefore, we have recently developed a simple method to immobilize CD on the fiber surface even at room temperature by utilizing the crosslinking reaction between MCT-β-CD and polyallylamine (PAA) 1). In this study, we investigated the fiber processing by using polyethyleneimine (PEI) as a polyamine like PAA, in combination with MCT-β-CD.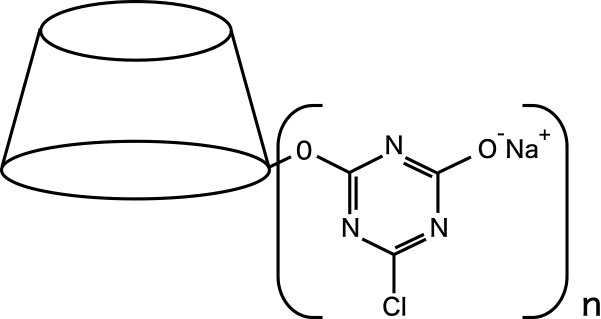 Experimental
PET cloths were dipped into an aqueous solution of MCT-β-CD and PEI. After taken out, their immobilization treatments were performed at room temperature or 120℃. Then, the obtained cloths were washed and dried to obtain processed cloths. The amount of immobilization was calculated from the weight change of PET cloth before and after processing.

Results and Discussion
By the immobilization treatment of MCT-β-CD and PEI on PET cloths, the weight increases of the treated PET cloths were shown at room temperature or 120℃. The immobilization time at 120℃ was much shorter than that at room temperature (Fig. 2). On the other hand, when PAA was used instead of PEI in the same procedure, the immobilization on PET cloths could not be observed. It might be due to the reaction speed of MCT-β-CD with PAA in aqueous solution is much faster than that with PEI.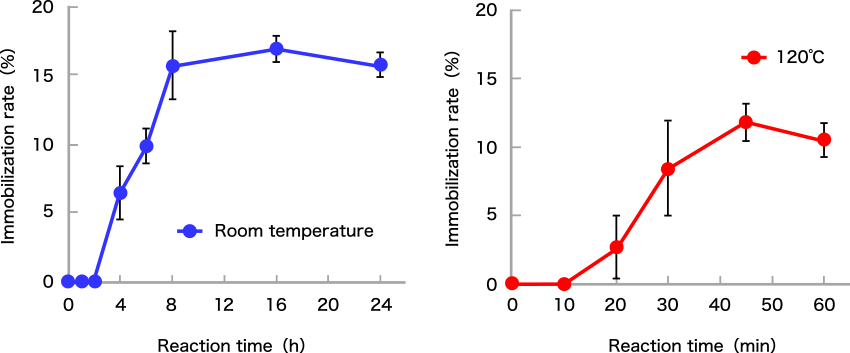 Conclusion
In this study, it was found that MCT-β-CD and PEI can be added into one immersion liquid for immobilization on PET cloth even at room temperature and the processing time can be shorten when heated. The immobilization on PET cloth was not observed when PAA was used instead of PEI under the same processing conditions. Therefore, PEI is shown to be useful for the development of new functional fibers by the simple one-pot processing in combination with MCT-β-CD.
Reference
1) Tomoki Akita, Yoshimi Yoshida, Yoshiyuki Ishida, Keiji Terao, Science and industry, 92(5), 124-129 (2018).