Research findings
No. 50 Anti-allergy effects of α-cyclodextrin as a dietary fiber
This research was reported in 29th Cyclodextrin Symposium (Hoshi Univ., Tokyo, Sep. 6~7, 2012).
Background
Our company has an attract attention technology in functional food and personal care fields which raises the water solubility, stability and bioavailability of functional ingredients by using the inclusion property of cyclodextrin (CD).
Because of its high water solubility and non-digestible property, α-CD can be taken as a water-soluble dietary fiber. Indeed, daily feed intake of α-CD shows some anti-metabolic syndrome effects and improves the intestinal environment. We also reported some interesting results supporting those effects (* please refer to the newest result of research "16th" of our homepage for details.).
It is well known that improvement of intestinal environment by daily intake of dietary fiber is closely related to our immunity.
In this study, we report the effects of α-CD taken as a dietary fiber on some allergic symptoms.
Functions of α-CD (human trial)
Anti-allergy


Atopic dermatitis, Cedar pollen allergy, Asthma

Anti-metabolic syndrome


Lowering effect of fat and cholesterol
Inhibition effect against an elevation in blood glucose level

Regulation of intestinal functions
Fig. 1
Effect of α-CD on allergic nasal inflammation in human
Dose: 5g / day, period: 2 month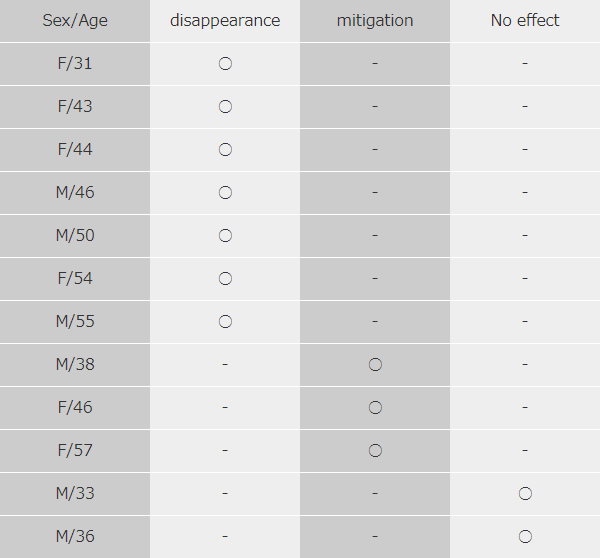 Fig. 2
Effect of α-CD on bronchial asthmatics in human
Dose: 5g / day, period: 2 month

Fig. 3
Effect of α-CD on atopic dermatitis in human
Dose: 5g / day, period: 3 month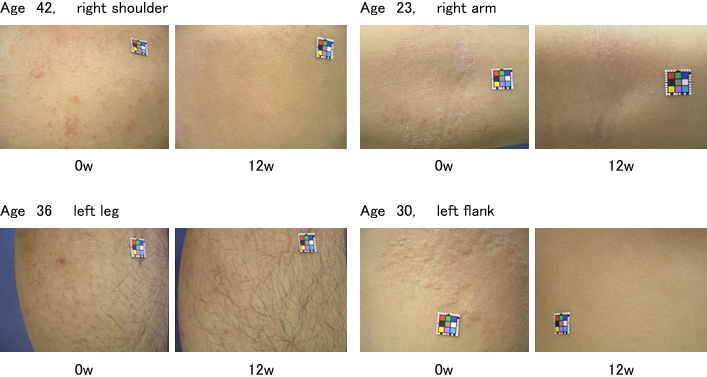 Institute of General Hearlth Development Co., Ltd No SKRK1-2005-0527
We examined IgE levels in plasma during the development of atopic dermatitis-like disease up to 8 weeks after the start of PiCl induction in NC/Nga mice.
Materials and Methods
Animals : Male NC/Nga mice aged 6weeks were purchased from Shimidu animal Company, Japan and used for the study.
Drugs : 2,4,6-Trinitro chlorobenzene (PiCl) were purchased Tokyo Kasei Chemicals. A Mouse IgE EIA kit was purchased from Yamasa Corp. Japan.
Sensitization : The furs of the thoracic and abdominal regions under anaesthetized animals was shaved off with a hair-clipper. 0.8% PiCl olive oil/ ethanol solution was applied to the thoracic and abdominal areas.
Induction : Four days after sensitization, induction was performed. A micropipette was used to apply 200 μl of the PiCl solution to the back and to the left and right ears.
Measurement of Plasma Levels of IgE : Blood was withdrawn from jugular vein of the anacesthetized NC/Nga mice 0,1,2,4 8 weeks after the start of induction treatment.
Fig. 4
Effect of α-CD on the plasma level of IgE in NC/Nga mice.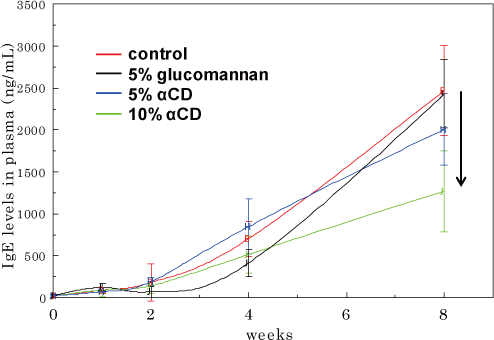 Inhibition of the increasing of plasma IgE level in NC/Nga mice fed α-CD for 8 weeks was observed.
conclusions
Allergy symptoms like nasal inflammation, bronchial asthmatics and atopic dermatitis were distinctly improved by daily intake of α-CD.
Inhibition effects to the increase of plasma IgE level in NC/Nga mice by feeding of α-CD for 8 weeks were observed.
→ The daily intake of α-CD has a great potential to improve of our immune system.